MacUpdate $25 12 Apps Bundle
2014/05/09 - 13:23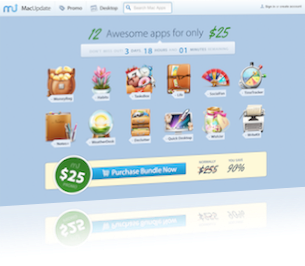 Here's an interesting App Bundle, proposed by MacUpdate.
Included in the bundle, find all the MacAppStudio applications. That is MoneyBag, Habits, TaskBox, Life, SocialFan, TimeTracker, Notes+, WeatherDesk, Declutter, Quick Desktop, WishJar and WriteKit.
Normally, these 12 apps come for much more. Now, you can get them all for just $25. But hurry! It's only for 3 days!